Procedure to make customized Touch Panel
Difference between RTP and CTP
Difference between AR Coating and AG Coating
The Manufacture Progress Of CTP


What Do You Need To Do Before Customizing A Touch?




With the development of display technology, the use of touchscreen displays is becoming more and more frequent, It is aimed at the needs of the development of intelligence, in the customized display touchscreen industry. Increasingly more intelligent terminal manufacturers are in need of customized touch panels. It`s impossible to make a customized TP in two or three days, so how can we improve efficiency? What do we need to prepare in the early stages of the customized display touch screen?


1. Confirm the environment of the TP (Touch Panel)
This is very important, as the environment determines which type of touch panel needs to be used. Confirm which kind of TP to use. (See the difference between CTP and RTP below.)
2. Create the budget for a customized TP
The customized display touch screen is made according to the requirements of clients, so the budget may be high sometimes. Of course, Panox Display charges a low tooling cost of under 1000 USD most of the time. For some strange touch panels, which need a strange shape, a high thickness above 3mm, industrial used touch panels that need to work in harsh environments or work well with low data speed (<30mHz), it will take more time and therefore cost more.
3. Submit TP drawings in advance
To make the performance effect of the product fit the requirements of clients, a touch panel drawing is necessary to make all structural designs more efficient and avoid the time and expense of mold opening that can result in certain gaps in the customization process. If clients don`t have the time or experience to make touch panel drawings, just give us a sketch with some basic sizes, and Panox Display will complete the drawing and confirm it with you.
4. Confirm materials and structure
Custom display touch screen materials: in order to be easier to assemble, custom-sized custom display touch screen manufacturers select the necessary production materials before customization, to ensure the functionality of the product used and to improve the display quality they only choose high-quality materials, so the overall smoothness of the process will not be affected by quality.
The material and structure also depend on the work environment. See the difference in structures below.





Basic Touch Panel Knowledge Developers Need to Know

1. What Are CTP and RTP?
CTP(Capacitive Touch Panel) or PCAP Touch
Multi-touch
In-cell and on-cell technology makes the display thinner
G+F, G+F+F, G+G, OGS Structure
Industry and automotive CTP solution
High precision, High sensitivity
OCA, OCR optical bonding
Touch IC (Focaltech, Raydium, Chipone) is necessary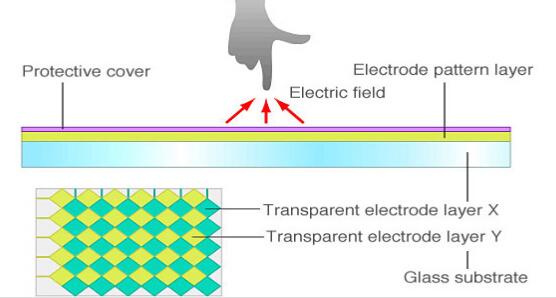 RTP(Resistive Touch Panel)
High-temperature resistance
Anti-humidity, Anti-static
Dustproof, Waterproof, Quakeproof
G+G structure
Transmittance >78%
4-line and 5-line circuit FPC
No need for touch IC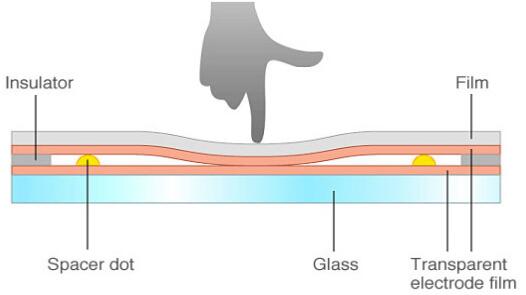 TP Products From Panox Display

Capacitive Touch Panel For Smartwatch Displays
Special Shape Customized Cover Glass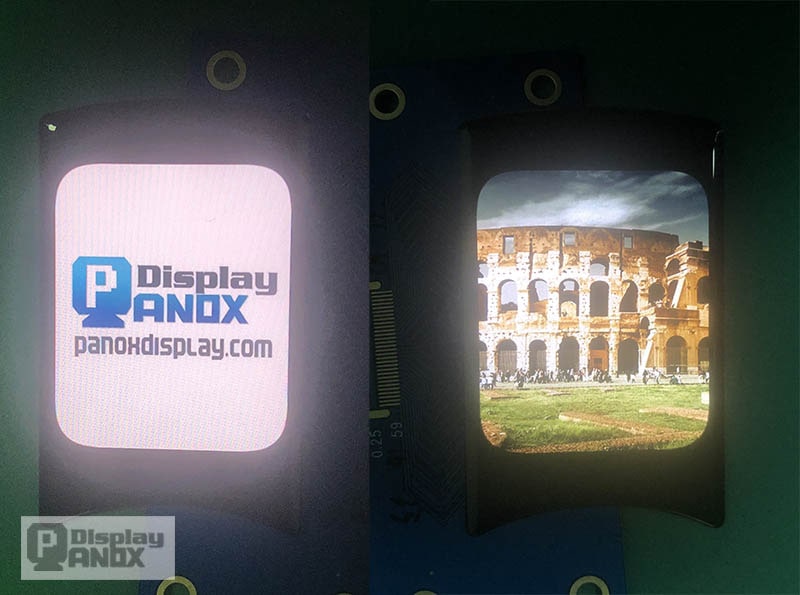 The military-level cover glass, is an
anti-scratch, which can be used in an extremely hostile environment, such as hot, cold, long-time sunshine, or salt mist.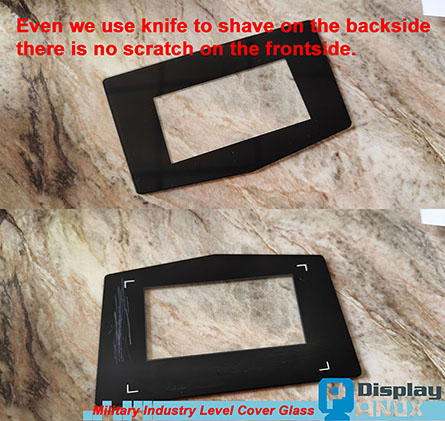 2. The Difference Between AR And AG Coating
AR stands for Anti Reflective Glass: After the glass is optically coated, it reduces its reflectivity and increases the transmittance. The maximum value can increase its transmittance to over 99% and its reflectivity to less than 1%. By increasing the transmittance of the glass, the content of the display is more clearly presented, allowing the viewer to enjoy a more comfortable and clear sensory vision.
Application areas: glass greenhouse,high-definition displays, photo frames, mobile phones and cameras of various instruments, front and rear windshields, solar photovoltaic industry, etc. Simple identification method: Take a piece of ordinary glass and an AR glass, and tie it to the computer or other paper screen at the same time. AR coating glass is more clear.
AG Stands for Anti-Glare Glass: By chemical etching or spraying, the reflective surface of the original glass is changed to a diffused surface, which changes the roughness of the surface of the glass, thereby producing a matte effect on the surface. When the outside light is reflected, it will form a diffuse reflection, which will reduce the reflection of light, and achieve the purpose of not glaring, so that the viewer can experience better sensory vision.
Applications: Outdoor display or display applications under strong light. Such as advertising screens, ATM cash machines, POS cash registers, medical B-displays, e-book readers, subway ticket machines, and so on. Simple identification method: Place a piece of glass under the fluorescent light and observe the tube from the front of the glass. If the light source of the lamp is dispersed, it is the AG treatment surface, and if the light source of the lamp is clearly visible, it is a non-AG surface.

The Manufacture Process of CTP (Capacitive Touch Screen)
The CTP has two kinds of structures, SITO, DITO as follows,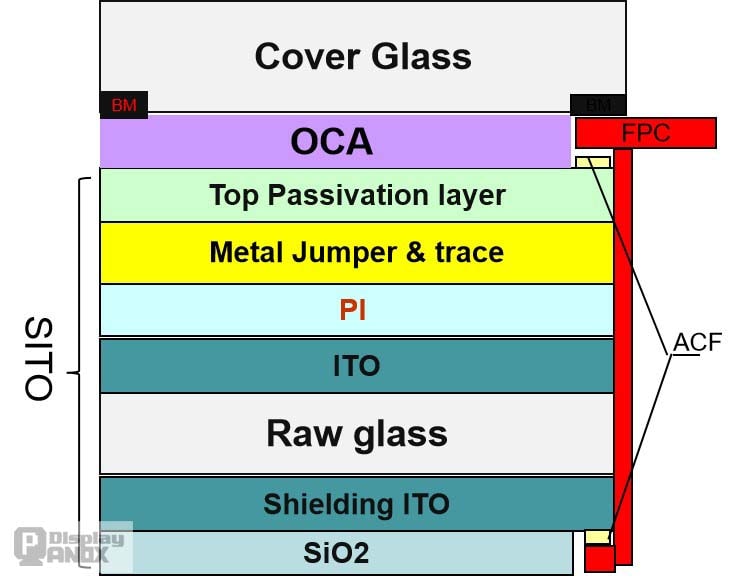 Sito Structure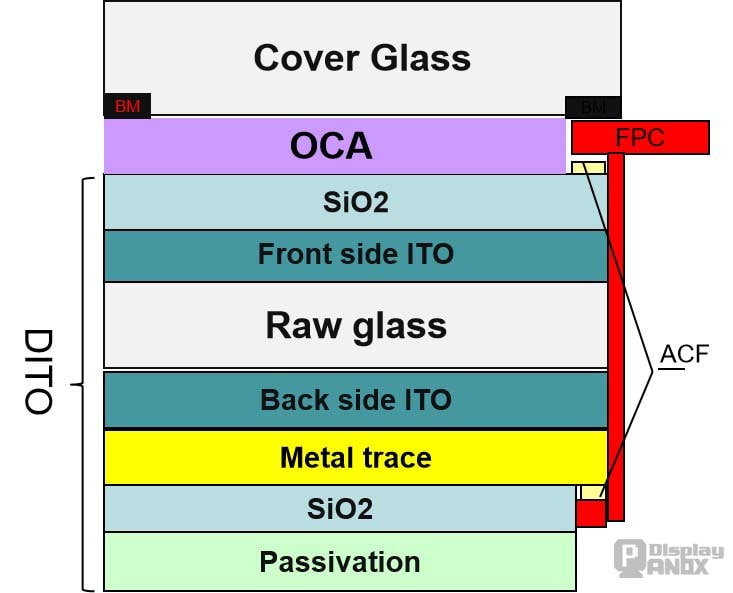 Dito Structure
The SITO Pattern
Both SITO and DITO sensor glass has complex manufacture flows,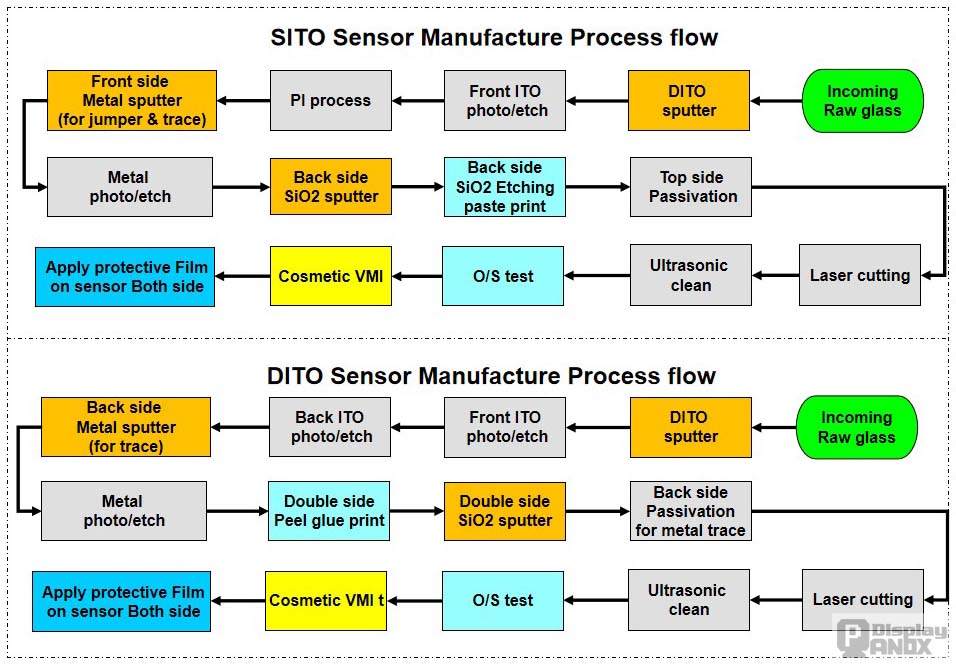 Common Touch Panel Sensor Glass Manufacture Process flow
After the sputtered glass is finished, it needs to be cut into a customized shape, and also needs some coating which means special surface treatment. The steps contain Clean, Photoresist coating, Bake, Exposure, Develop, Back side Photoresist coating, Post bake, Etch&Stripper, Laser cutting, Ultrasonic clean, O/S test, Cosmetic VMI, Apply Protective Film.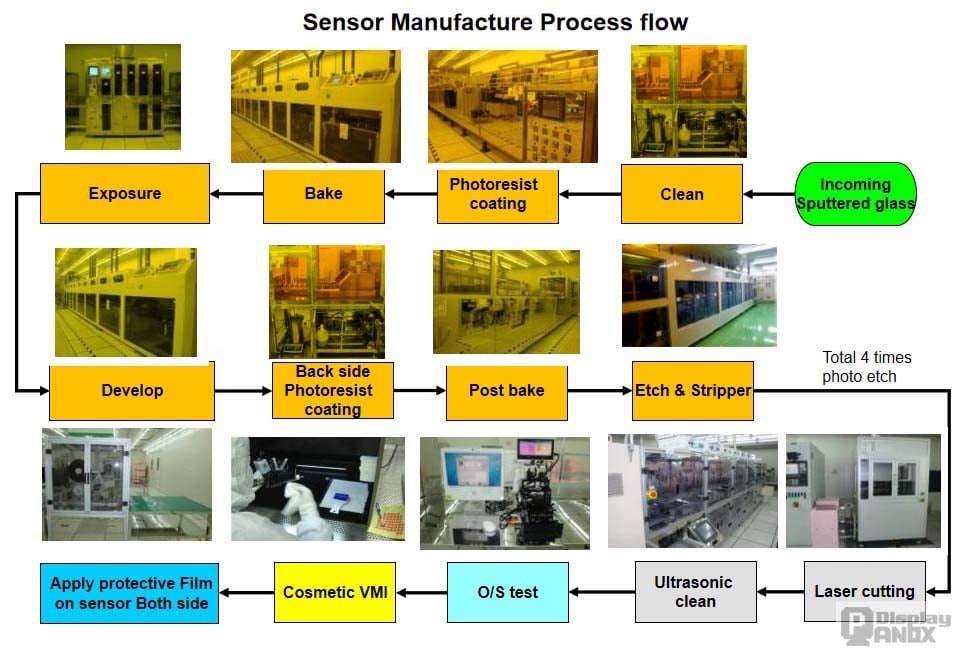 Touch Panel Bonding&Lamination Process Flow
After the sensor glass finish, it will also take more than 10 steps to make a final touch panel. It contains ACF Apply (Front side), Pre-bond (Front side), ACF Apply ( Back side), Pre-bond (Back side), Main bond, Gluing/UV Curing, Bonding test, sensor+OCA lamination, sensor+ CG Lamination, Auto Clave, function test, Cosmetic VMI, Apply protective film on both sides.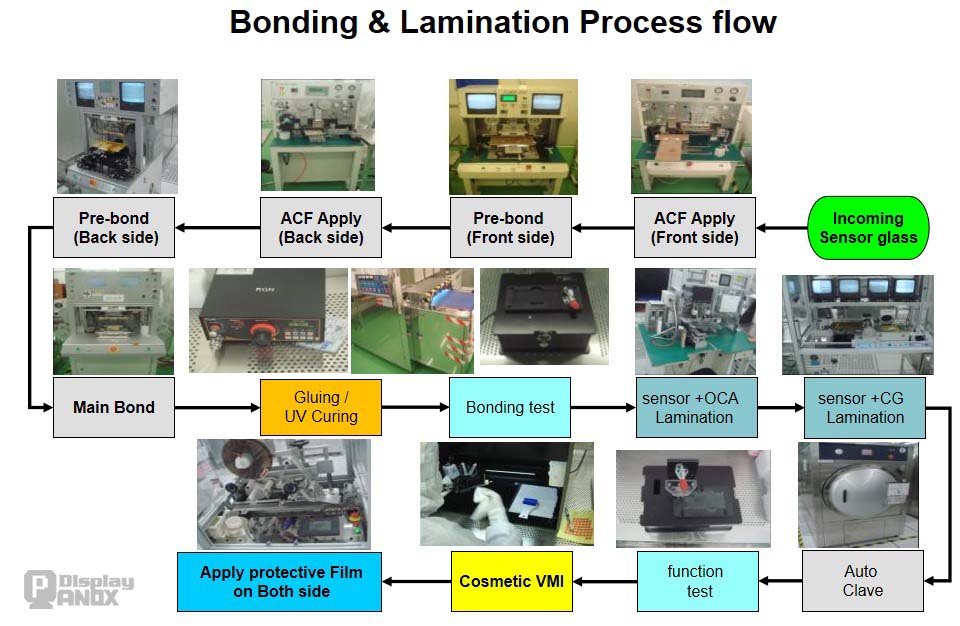 FPC Bonding



Why do Clients Need to Pay Tooling Charges?
To produce a Touch Panel need complex procedures, even for one piece of the customized touch panel, there are more than 10 workers and 10 machines working on it. So a tooling charge for a customized Touch Panel is necessary when there is no available Touch Panel for clients.