7 inch Raspberry Pi LCD Display Touch Screen
For a few displays with controllor board, it's better to buy from our online store. For development and batch order, or technical specification including datasheet, circuit schematics, initial code, customized cover glass, touch panel, please kindly contact us
Shop on Online Store
The Raspberry Pi is a popular platform for hobbyists, educators, and professionals alike due to its versatility, low cost, and broad range of applications. One of the most useful accessories for the Raspberry Pi is the 7 inch LCD screen with touch panel, which allows you to interact with the Raspberry Pi directly without the need for an external monitor or keyboard. In this article, we'll take a closer look at this accessory and explore its features, uses, and benefits.
Features
The 7 inch Raspberry Pi LCD screen with touch panel is a high-quality display that offers a resolution of 1024 x 600 pixels, a brightness of 250 cd/m2, and a contrast ratio of 500:1. It has an integrated touch panel that supports 10-finger touch, making it easy to interact with the Raspberry Pi's graphical user interface (GUI) and run applications that require touch input. The display connects to the Raspberry Pi's GPIO pins and is powered by the Pi's 5V power supply, which means that no additional power cables are required.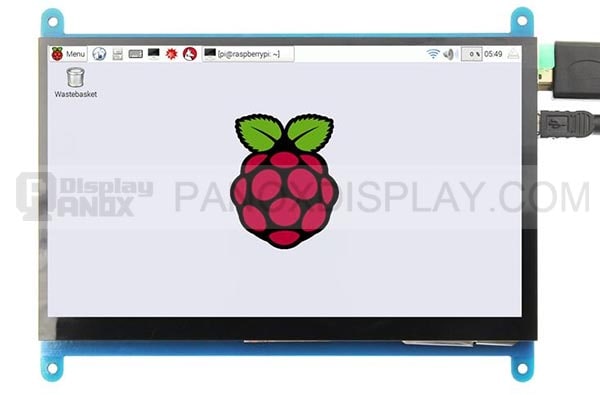 Application
The 7 inch Raspberry Pi LCD screen with touch panel is a versatile accessory that can be used for a wide range of applications. Here are just a few examples:

Home automation: The touch panel can be used to control smart home devices such as lights, thermostats, and security cameras.
Multimedia: The display can be used to watch movies, browse photos, and listen to music, making it a great addition to a media center.
Education: The touch panel can be used to interact with educational software and tools, making it a valuable resource for teachers and students.
Gaming: The display and touch panel can be used to play games that require touch input, such as puzzle games and platformers.
Benefits
There are several benefits to using the 7 inch Raspberry Pi LCD screen with touch panel:

Convenience: The touch panel eliminates the need for an external keyboard and mouse, making it more convenient to use the Raspberry Pi in a variety of settings.
Portability: The small size and lightweight design of the display make it easy to take with you on the go.
Cost-effective: The LCD screen is an affordable accessory that adds value to the Raspberry Pi without breaking the bank.
Easy to use: The display and touch panel are easy to set up and use, even for beginners.

The 7 inch Raspberry Pi LCD screen with touch panel is a versatile, cost-effective, and easy-to-use accessory that adds value to the Raspberry Pi platform. Whether you're using it for home automation, multimedia, education, gaming, or any other application, the touch panel makes it easy to interact with the Raspberry Pi's GUI and run applications that require touch input. So if you're looking to enhance your Raspberry Pi experience, the 7 inch LCD screen with touch panel is definitely worth considering!
Interface Introduction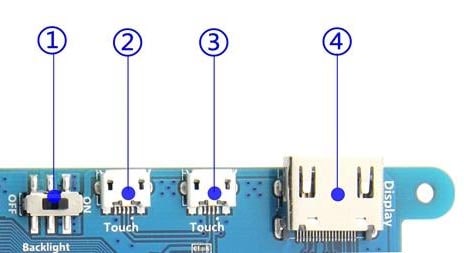 1. Backlight Swtich
2. Usb touch Port 1
3. Usb touch Port 2
4. HDMI Display Port
Package List
7 inch LCD For Raspberry Pi
USB Power Cable
HDMI Cable
Copper Column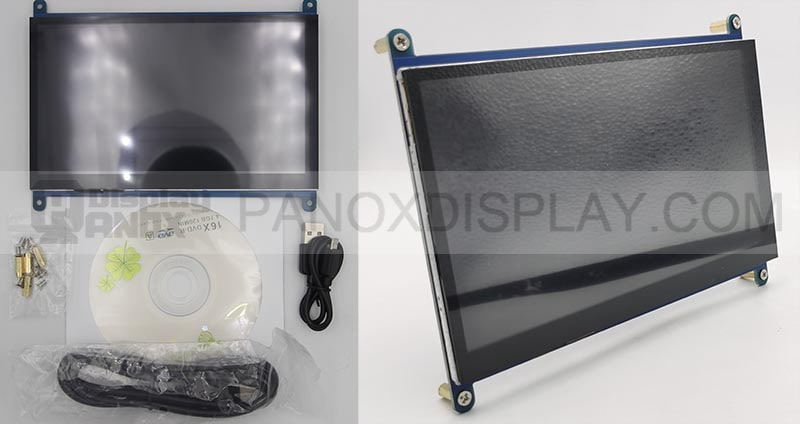 Datasheet Download
| File Name | Description | Language | Tags | Update Time | Document Size | Download |
| --- | --- | --- | --- | --- | --- | --- |
Panox Display values every opportunity to cooperate with clients, because OLED display is fragile, so we provide a solid package and the fastest way to ship. Panox Display has seven years experience of in international trade and served more than 1000 clients all over World.
It`s safe and convenient to work with Panox Display.





To make your development of the OLED display driver more smooth, Panox Display will provide free connectors and an adapter board, engineers can directly fly lines to the main board.
If you need a customized board with HDMI/Type-C input, Panox Display also can meet your requirements.





Panox Display has built an automatic production line that can produce more than 50K displays per day. Its free dust factory can automatically bond IC, FPC, and backlight. Panox Display always keeps a skillful QC team to make sure every shipped display is without any quality problems.
Panox Display also provides customized LCD/OLED with a low-cost solution.





Panox Display focuses on small and medium-size displays, from 0.39 inch to 15.6 inch, including all kinds of shapes, such as rectangular displays, square displays, round/circular displays, and Long-strip displays.





Over the past 7 years, Panox Display has served clients all over the world, most of our clients are from developed countries, such as North America, Europe, East Asia, and Australia. With patient service, Panox Display has built good relationships with many clients including DIYers, engineers, purchasers, electronics traders, and company founders. Panox Display has reliable express shipped to any place in the world.

Our clients are from varieties of industries, from civil products to military level, including Vehicles, E-entertainment, Smartwatch, 3D printers, Turn-key solutions, Diving, and Medical.
With the development of technology, more and more products will need display panels. Panox Display also keeps following the latest display technology.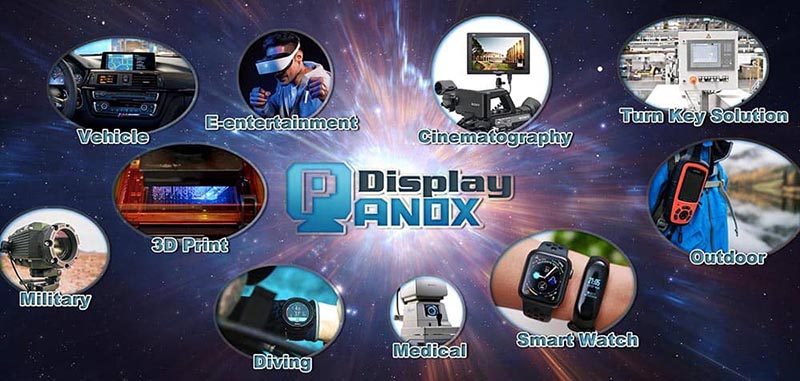 What do you wait for? Just start to develop with Panox Display`s panels.

FAQ
Can I connect this display to Raspberry Pi?
If you don`t know or don`t want to write a display program on Raspberry Pi, it`s better to get an HDMI controller board from us, and Panox Display will send a config.txt file for reference.
If your Raspberry Pi can support the interface of the display panel, and you know how to program on Raspberry Pi, you can connect to our display.


What`s the lifetime of these display panels?
The lifetime is different on different images, check the lifetime on datasheet to study it.

What`s the quality standard of Panox Display`s display panels?
For OEM products from Panox Display factory, please check the quality test standards.
Most display panels are from giant manufacturers such as BOE, Sharp, LG, EDO, AUO, etc. They have already tested with strict standards.

How do Panox Display ship display panels?
1. UPS/Fedex/DHL/TNT, the best choice for most clients, 3~7 days to arrive.
2. Aliexpress standard ship, this way is cheap and slow, usually take more than 10 days. Only for samples.
3. For Russian clients, EMS or Aliexpress shipment is better.
4. Any designated logistics are acceptable.

Where can I get the cover glass or touch screen for this display panel?
First, you need to check whether this display has On-cell or In-cell touch panel, if has, it only needs to add a cover glass on it. If not, it needs an external touch panel.




(On-cell and In-cell are integrated PCAP touch panels on the display screen)

Panox Display can provide a customized touch screen with a low cost of tooling charge.
Because the shape of the cover glass depends on the design of the clients, to avoid infringement of appearance, most of the developers need different customized touch panels.

How can I drive the display panel?





For most electronics engineers, our specifications are enough to run the display, and we will provide some assistance.
Panox Display will provide necessary specifications for most LCD/OLED on sale, including,
Circuit schematic
IC Datasheet
Display Drawing
Display Datasheet
But Panox Display is not a school, if customers don`t know the basic knowledge to design circuit boards, we suggest using our controller board to drive the display.


How can I test the display screen?
Panox Display provide HDMI/Type-C controller board or individual demo kit to test.
The pictures of demo kit can be changed by yourself.

I don`t know which display is suitable for my project.
Different displays have different characteristics, just tell Panox Display your application, and operating environment, Panox Display will suggest a suitable display for you.

Where can I buy this display?
If you just need a few samples, it`s better to directly on ourAliexpress store(The buy link is on the right of the product image), we are 5 stars feedback supplier with 100% Honesty.
For bulk orders, it`s better to contact us and get a better price.