When developers try to drive the LCD or OLED panels, there are many pins to interface, so what do these pin assignments mean?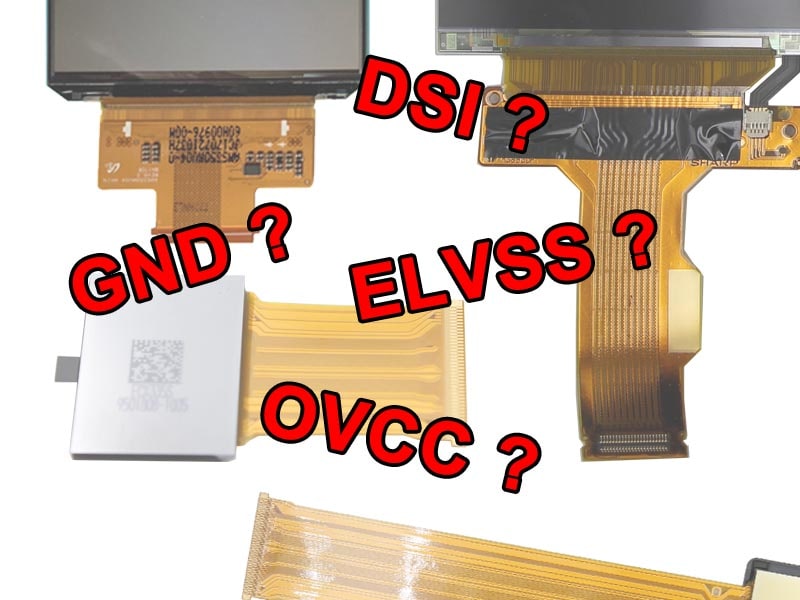 GND, AVDD, VDDI, and OVDD are power supply rails and typically refer to Ground, Analog Power Supply, Digital Power Supply, and Overdrive Power Supply respectively.

VCI, RESX, F_CSN, F_SCLK, and SWIRE are signals used in digital communication interfaces and typically refer to voltage supply for communication interfaces, reset signal, chip select signal, serial clock signal, and serial wire interface respectively.
TE refers to the Touch Enable signal in the touch-screen interface.
DSI refers to Display Serial Interface, a high-speed communication interface between a display controller and a display device.
VMTP refers to the Voltage Measured Test Point, a test point used to measure voltage in a device.
N/C typically refers to "Not Connected" or "No Connection".

What is OVCC, OVSS, VSP, VSN, IOVCC, VBAT, PWM, VBAT, DSI, VIH, VIL, ELVSS, ELVDD, VDDI, VCI, ELON, CSB, SCL, SDI, SDO?

OVCC: Output voltage common-mode control
OVSS: Output voltage swing suppression
VSP: Positive voltage supply
VSN: Negative voltage supply
IOVCC: Input/output voltage common-mode control
VBAT: Battery voltage
PWM: Pulse Width Modulation
DSI: Display Serial Interface
VIH: High-level input voltage
VIL: Low-level input voltage
ELVSS: Electro-optical low voltage supervisor
ELVDD: Electro-optical low voltage power supply
VDDI: Display Driver IC voltage
VCI: Video Common Interface
ELON: Electro-optical low voltage signal
CSB: Chip Select/Slave Select line
SCL: Serial Clock line
SDI: Serial Data Input
SDO: Serial Data Output

These are different electrical signals, voltages, interfaces, and signals commonly used in the design and operation of electronic systems.