1.2 inch Round/Circular OLED For Wearable Smartwatch
For a few displays with controllor board, it's better to buy from our online store. For development and batch order, or technical specification including datasheet, circuit schematics, initial code, customized cover glass, touch panel, please kindly contact us
Shop on Online Store
Panox Display`s 1.2 inch OLED is a 390x390 pixel smartwatch used AM-OLED display with W022 driver ic communicates via MIPI/SPI interface, outstanding display quality, vivid color, super wide view angle and easily controlled by MCU such as SSD2828, STM32, AVR, ARDUINO, ARM, and Raspberry Pi. FPC with Hirose connector BM28B0.6-24DP is easy to assemble or remove.

It can be used in any Smartwatch, Vehicle, Smart Home, Instrument, industrial device, security,dynamic information displays which requires a display in low consumption with high quality and colorful image.

OLED display have advantages as follows,
1. Wide Operating Temperature
2. Work well under -40℃
3. Readable under the sun
4. High PPI
5. Thin like a paper
6. High Contrast
7. Vivid Image
8. Low Consumption.
Panox Display provide a SSD2828 driver board to drive this 1.2 inch OLED,

Outstanding peformance when using as on smartwatch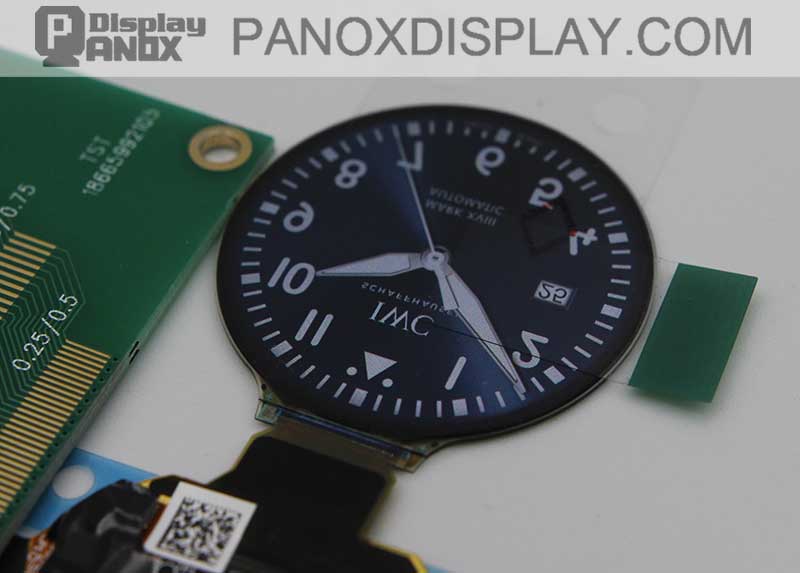 Datasheet Download
| File Name | Description | Language | Tags | Update Time | Document Size | Download |
| --- | --- | --- | --- | --- | --- | --- |
| 1.2inch_PO120F390MS.pdf | Datasheet | English | round oled | 2022-07-28 23:30:10 | 1.91M | |