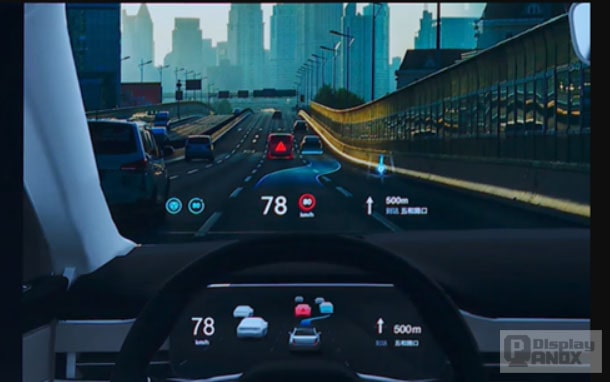 On April 16, 2023, Huawei Intelligent vehicle solution press conference, Yu Chengdong, managing director, terminal BG CEO, and BU CEO of smart vehicle solution released some train carrying solutions and new products. Among them, Huawei's own research of AR HUD first appeared.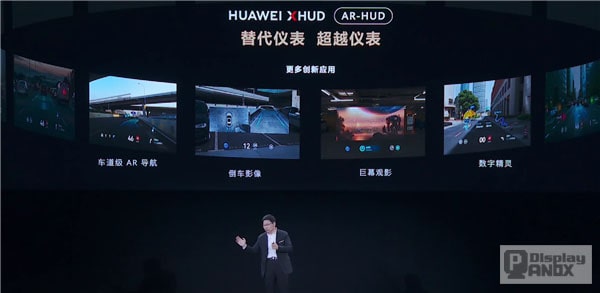 (the AutOptix has many function, including but not limited in AR navigation, vehicle backup, cinema)

It is understood that the Huawei AR-HUD can replace the vehicle instrument, while the the effect is far beyond the instrument. Compared with ordinary HUD (head-up display device), it is stronger and better.

Yu said the Huawei AR-HUD uses Huawei's AutOptiX intelligent on-board light technology to bring cars into the era of optical displays.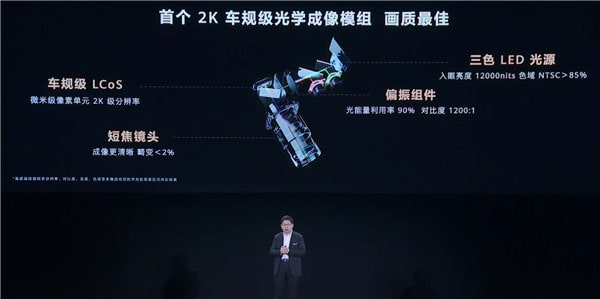 (2k high resolution LCoS dispay with high brightness)

The scheme is equipped with rail level LCoS (micron level pixel unit, 2K level resolution), three-color LED light source (eye brightness 12000 nits, color gamut NTSC> 85%), short focus lens (clearer imaging, distortion <2%), polarization component (light energy utilization 90%, contrast 1200:1).

In terms of specifications, the Huawei AR-HUD has the largest mass-production frame in the industry, with an equivalent display of 70 inches at 7.5 meters and 96 inches at 10 meters, and the highest resolution of the mass production HUD of 1922x730.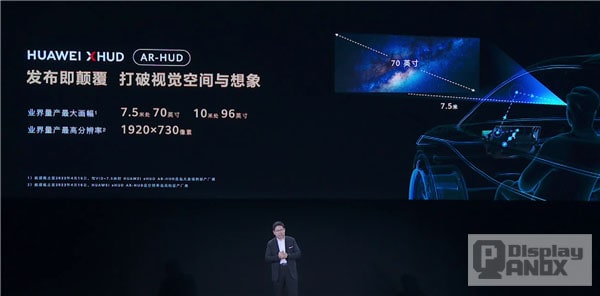 (watch movie in car,70 inch at 7.5 m distance, 96 inch at 10 m)

In terms of functions, Huawei AR-HUD is deeply integrated with the intelligent driving system for the first time, which can achieve a real-scene presentation. In addition to car gauge level AR navigation, it can also project reverse images on the windshield and realize giant screen viewing. The effect is very shocking.

Yu revealed that the Huawei AR-HUD will be launched by the car M9 and will be carried on more models later.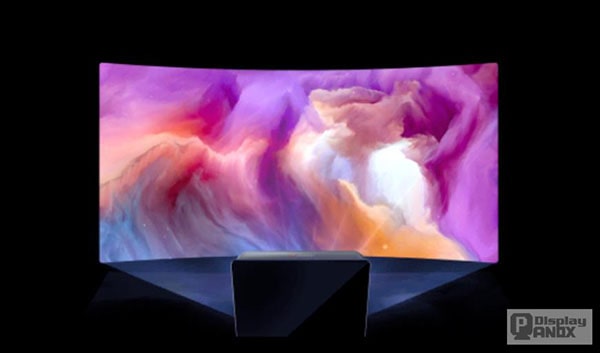 LCos display is one kind of Micro Display, Panox Display also are selling Epson LCoS displays. LCos display are usually used on the projector. The most popular micro Display from Panox Display is Sony and BOE micro OLED, some versions among them are with high brightness which is fit the HUD application.

Related: