Memory LCD is the perfect solution for compact handheld, wearable, and other small-screen applications. Embedded, 1-bit memory in every pixel allows for an always-on display capable of delivering high-contrast, high-resolution content with ultra-low power consumption.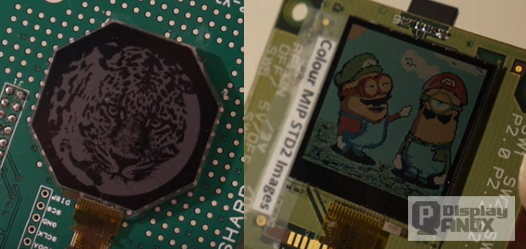 A lightweight, two-glass design plus an integrated driver in the panel provides an exceptionally thin module. Incorporating the Memory LCD into a design is simple with 3-wire SPI serial interface (SI, SCS, SCK).

Why memory LCD has ultra-low power consumption?
Related:


Sharp demonstrates Memory LCD technology that delivers high-contrast, high-resolution displays for outdoor use. They are already being used in the quite popular Pebble watch. These LCD modules embed 1-bit memory in every pixel to enable each pixel to hold a state while requiring low power. This delivers an "always on" display that uses little power (only a single supply voltage is required), even when updating images. This helps designers create products with long battery life. It also eliminates sweeping images or "ghosting", because only the part of the image that requires updating needs
to be changed. The response time of Sharp's Memory LCDs makes it fast enough to display motion video. Right now Memory LCD is thus a quite good contender for the Smartwatch market, with Android Wear being a possibility also, perhaps
Smartphones could use Memory LCD also to design a smartphone with potentially weeks of battery life instead of a day or two.
Related:
Sharp's reflective Memory LCD technology leverages ambient light as part of the display physics. This means the brighter the environment, the better the display looks - which in turn, enables your outdoor wearable, handheld, and other small-screened products to deliver crisp, high-resolution, high-contrast images. See Sharp's sunlight performance in action, including a demonstration of our 8–color Memory LCD display.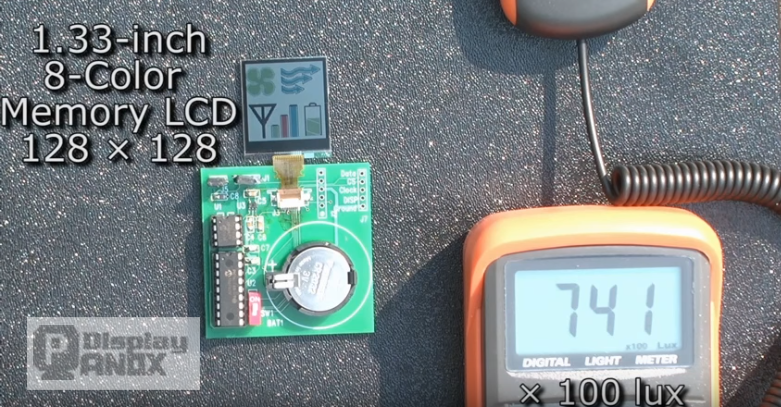 The following is the consumption table for some Memory LCD,
Model
Size
AA
Static Power
Consumption
Dynamic
Power
Consumption
Input
Voltage
LS12B7DD01
1.17
-
6 µW
< 50 µW
3 V
LS013B7DH03
1.28
-
12 µW
50 µW
3 V
LS013B7DH01
1.26
-
25 µW
35 µW
3 V
LS027B7DH01A
2.7
-
50 µW
<175 µW
5 V
LX032A7NA01
3.16
-
40 µW
250 µW
5 V
LS044Q7DH01
4.4
-
100 µW
600 µW
5 V
Stability In Low Temperature
When it comes to rugged, low-temperature LCD performance for wearable, mobile, and other small-screened devices, Sharp's Memory LCD leaves bi-stable technology frozen in its tracks. Memory LCDs embed 1-bit memory in every pixel to deliver an "always-on" display capable of rendering high-contrast, high-resolution content with ultra-low power consumption. Watch the Memory LCD go head-to-head with a bi-stable display in our labs – and put the competition on the ice.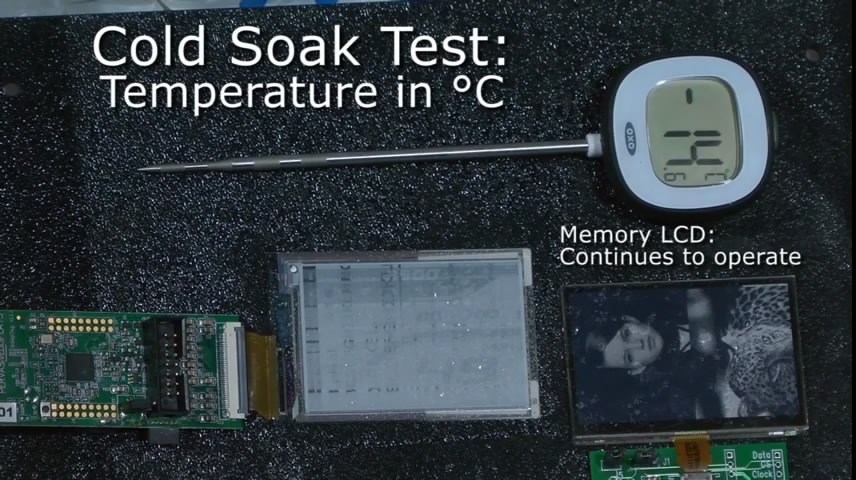 Easy To Integrate
Memory LCD is made on continuous grain silicon that has higher electron mobility than
typical amorphous silicon, it allows the engineer to embed one bit of SRAM at each pixel. But
it also allows the engineer to do is supporting a very simple 3-wire SPI interface out of the
box compared with other low-power technologies which require more expensive and upwards
of 40 components to support an interface.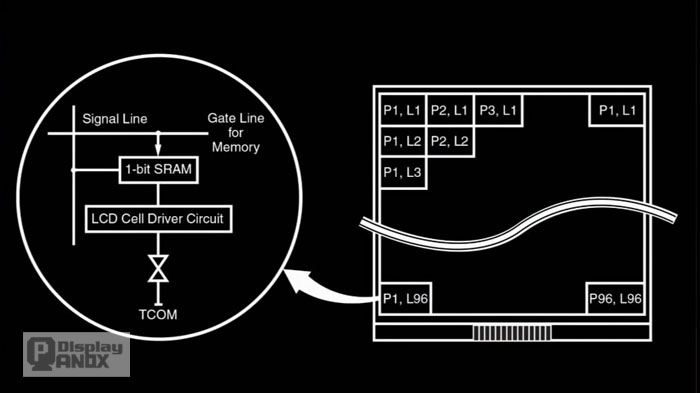 This LCD uses a three-wire interface specifically the spy bus which has basically a
data clock in a chip select. This is a very simple interface which is very common in the
industry, most embedded processors had that built-in already. This gives memory LCD a
great advantage in that the engineer doesn`t need any external devices which really helps low
power consumption.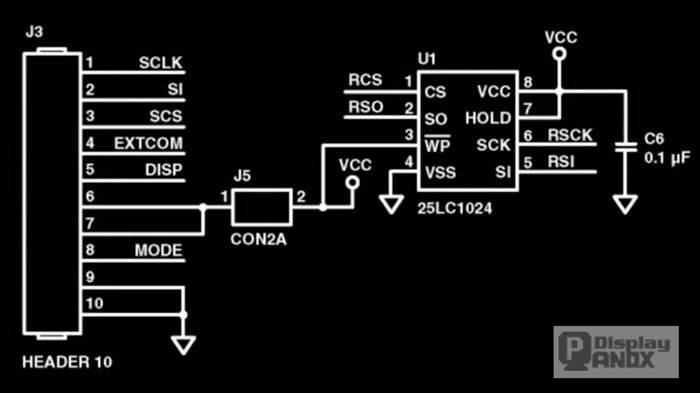 Memory LCD line at a time and a direct kind of raster across it and you can individually
address each line also it is fairly fast the clock running at two megahertz. So you can
get up to watts of 20 Hz frame rate, it has individualized addressing as well so you can
put multiple devices on the spy bus.
You will have to add any parts and it`s supported by even low-power or low- performance parts .you will have very small microcontrollers. If that`s running your machine, you don`t have to upgrade it. You can just use the existing part which allow you to go very little so in the updated content when you change content, you won`t get any ghosting or flicker now. It has basically TFT response time so there is no legacy or no shadowing and it`s all at the microwatt line exactly.
It`s very low power and very high visibility, the Memory LCD does have TFT response times, and it`s TN mode so it`s a very stable standard LLC mode that functions very well at low and high temperatures.
The more important is Memory LCD has a lower price compared to AMOLED. So, Memory LCD is a better choice for those customers who don`t have enough budget for AMOLED.

As a professional OLED supplier, Panox Display also provide small size Memory LCDs for a wearable device or other application, the size of Memory LCDs we provide include 0.56,
0.99,
1.03, 1.06, 1.17, 1.19, 1.2, 1.26, 1.28, 1.32 1.33, 1.56, 1.8, 2.7, 3.16, 4.4